GY6 58.5mm 4v 4 Valve Big Bore Cylinder Kit 125 & 150 to 155cc / 160cc, Scooter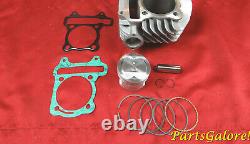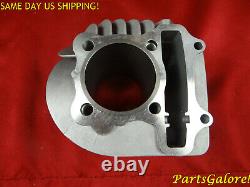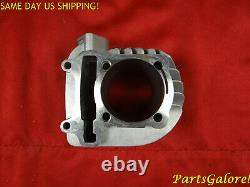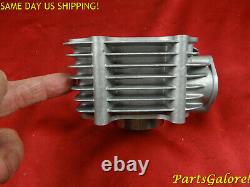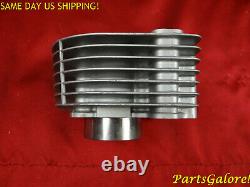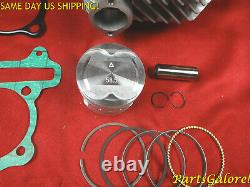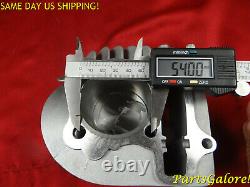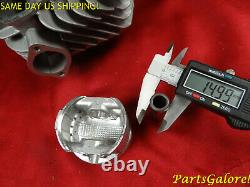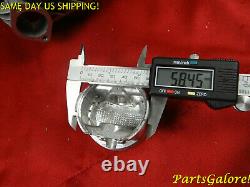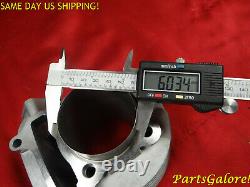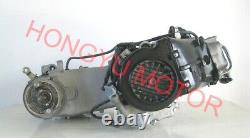 For GY6 125cc & 150cc. Engines found on various Chinese Scooters. NOTE: This 58.5mm cylinder is ideal for engines with a small case opening which won't accept a 61mm cylinder. This cylinder will fit all 125 & 150cc Standard GY6 engines may not fit some GY6 variations.. NOTE: This kit has a 4 valve piston and is only for use with a 4 valve head.
NOTE: This kit is commonly called 160cc or 170cc but the actually size is 155cc. NOTE: There are at least 8 variations of the GY6 125 & 150cc engine: (see below). Please contact me if you're not sure which engine you have, I'll help to the best of my ability. 1 The standard GY6 125cc & 150cc (152QMI & 157QMJ) engine used on 90% of GY6 applications. Make sure you have straight fins and 54mm stud spacing to be sure this is the kit you need.
Most engines engine can go up to a 180cc (61mm) big bore kit check your case opening to be sure. 2 "QJ" GY6 125cc & 150cc engines, stamped QJ152QMI, QJ157QMJ or QJ158QMJ manufactured by the Quingiang Company. This head is taller than the standard GY6 head, the cylinder has wavy fins and the valve cover is held on with 2 bolts making it easy to spot.
NOTE: there are other GY6 variations that look like this one but will not work (see below). NOTE : Even though the stud spacing is 54mm (same as the standard engine), the two small bolts will not line up so the cylinder and head are not interchangeable with the standard GY6 engine. 3 Kazuma GY6: This variation is used only on Kazuma 150cc Falcon & Dingo ATVs and has engine stamp KZM157QMJ. This cylinder has wavy fins like # 2 but is unique to Kazuma. 4 GY6-B or GY7 "Scooter" engine stamped BN157QMJ made by BenNeng of the Zhongneng Industry Group.
Uses a taller head with longer valves and a 4 bolt valve cover. Cylinder has wavy fins like # 2 but is not the same. Often used on applications with 16 rear wheels but also used with smaller wheels on some applications. 5 GY6-B ATV engine with reverse, used almost exclusively in ATV, Buggy, and Go-Cart's.
The cylinder also has wavy fins like #2 but the studs are spaced 56mm apart compared to 54mm for standard GY6 engines. The head is 73mm tall with 2 valve cover bolts making the cylinder and head exclusive to this engine and almost impossible to find. 6 GY6-B with type 3 case, has 57mm stud spacing allowing big bore cylinders up to 232cc! Uses a taller head with longer valves. This cylinder looks like a standard GY6 except for the stud spacing.
This is the one to have for ultimate performance. 7 "P" Engine (1P57QMJ) This engine uses a 73mm tall head with 4 valve cover bolts. The cylinder uses 54mm stud spacing and will interchange with the standard GY6 engine.
One of my customers reported that his case opening was only 62.3mm which means he had to bore the cases to accept a 61mm big bore kit (no way to know if they are all like this). 8 KL30F 150cc Kymco engine, used on Agility and maybe other Kymco models. I have very little info on this motor but I believe the cylinder has a different stud spacing to prevent interchange.
If I can get more info I'll provide an update. NOTE: I literally spent days gathering this info. There is a never ending flow of contradicting info floating around the internet so I cannot guarantee this info but it is true to the best of my knowledge. If you have additional info you can provide I'll be grateful if you share it with me. This item brought to you by.
To see all my items! I will spend as much time and effort as needed to make sure you get the part you need. If I don't measure up, please allow me to fix what I did wrong.
I'm not perfect, but I will always try to be. 1 I only sell the best quality parts at very reasonable prices. Everything I sell comes with my personal quality guarantee. 2 I treat my customers with kindness and respect always. The item "GY6 58.5mm 4v 4 Valve Big Bore Cylinder Kit 125 & 150 to 155cc / 160cc, Scooter" is in sale since Thursday, April 29, 2021.
This item is in the category "eBay Motors\Parts & Accessories\Scooter Parts\Other Scooter Parts". The seller is "partsgalore1" and is located in Indio, California. This item can be shipped worldwide.
Country/Region of Manufacture: China
Type: 180cc GY6 Big Bore Kit for 125cc & 150cc
Engine: GY6 Honda & Chinese 125cc & 150cc QMI152, QMJ15
Manufacturer Part Number: E589
Brand: PartsGalore