S&S Cycle 910-0205 97 Big Bore Cylinder Kit for 99-06 Twin Cam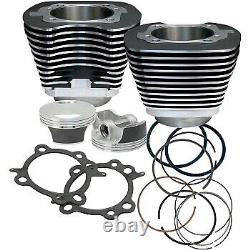 Fits 99-06 Twin Cam 3.927" Bore, 4" Stroke, 9.7:1 Comp. The Big Bore kit yields excellent results with stock cylinder heads. Easy installation: no need to bore or split existing cases, just swap the cylinders. Cylinders are constructed from premium aluminum castings with cast-in iron liners. Kits include cylinders, pistons, rings and gaskets (head, base and exhaust).
Black or silver powder-coat finish. This project requires a skilled technician. It is the responsibility of the person assembling the parts to check all clearances and assembly specifications. 3.927" / 3,927". 9.7:1 / 9,7:1.
Softail Night Train EFI FXSTBI. Super Glide Custom EFI FXDCI. Softail Springer Classic EFI FLSTSCI. 15th Anniversary Fat Boy FLSTF.
Road King Custom EFI FLHRS. Electra Glide Classic EFI FLHTCI. Road King Classic EFI FLHRC. Electra Glide Ultra Classic EFI FLHTCUI.
Softail Heritage Classic EFI FLSTCI. Softail Fat Boy EFI FLSTFI. Electra Glide Standard EFI FLHTI. Super Glide Sport EFI FXDXI. Softail Heritage Springer EFI FLSTSI. Electra Glide Ultra Classic FLHTCU.