Kenne Bell 2015-2020 Ford F-150 5.0L Supercharger Mammoth 3.2L Tuner Kit Black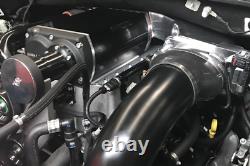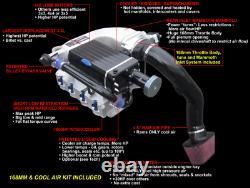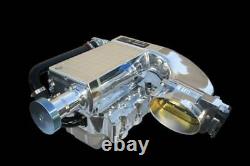 This is the tuner kit which will require a custom tune done locally after you install the kit, and does not include a fuel system, programmer, or tuning. Kenne Bell Part # TS1004-3.2BTUN. There are many different options available from Kenne Bell, please view the details section below for the details on this kit. For the many other Kenne Bell kits available, and options such as upgrading head units or polished head units. Horsepower gain: 245+ Mammoth 3.2L billet twin screw supercharger head unit, satin finish, 10-24psi on 91 octane Patented External Spring Bypass Valve Exclusive 100% Bullet Proof Billet Construction 168mm/2150 CFM Throttle Body 1500HP Rated Intercooler / Manifolds Belt Drive System: Stock 6 rib Fuel Pump Booster Supplied: NONE Supplied Fuel Injectors Supplied: NONE Supplied Computer/Ignition Mods.
NONE Supplied OEM quality and appearance FEATURED DETAILS: Standard Industry Leading Bigger is Better 168MM/2150 CFM Throttle Body, Mammoth® 4.5Inlet System, 3.2L etc. No Expensive Stage 1, Stage 2, Gen 1, 2,3,4 etc Upgrades Eliminates Stock Restrictive Throttle Body. Same Basic Rear Inlet 10 PSI Kit as 1500HP KB 5.0 Record Holders. Developed and Proven on Kenne Bell Air Flow Bench and Dyno. Largest Displacement 3.2L (+20% vs 2.65 and +39% vs 2.3).
Not the Same Smaller Displacement OEM Shelby 4×4 (2.3 or 2.65) Lobe Rotors Used by Others. Larger 2L, 3L and 4L Exclusive Custom Profiled 4×6 Lobe Rotors are Manufactured On Our Own MORI-SEIKI Rotor Machine. Exclusive 100% Bullet Proof Billet Construction vs Castings.
You Wont Get Sleepy or Hungry Waiting For The Boost To Kick In. 4-3.25 / 10-16 PSI Stock Crank Pulley.
17-24 PSI with 8 ATI Crank Pulley. Lowest Parasitic Loss (HP Required to Drive Supercharger). Like a Free Set of Headers. Recommended For Boost Levels Over 16 PSI. Patented External Spring Bypass Valve.
Supercharger Runs Cooler and Improves Fuel Economy and Driveability. 1500HP Rated Intercooler / Manifolds. Same Used on Johnny Lightning NMRA 1500HP 5.0. First 5.0 in the 7s.
Supercharger Location On Manifold Flow Tested For Optimum and Balanced Individual Port Flow. No Power Robbing Jackshafts, Cog Belts or Added Drive Gears.
Rear Inlet Eliminates Cramming Both Inlet and Drive Into Same End of Supercharger. Larger Less Restrictive Rear Inlet Supercharger Opening to Rotors vs. Highest CFM 168MM / 2150 CFM Throttle Body is Standard Equipment. Highest CFM 2150 CFM Deep Pleat Filter Means More HP and Less Frequent Cleaning.
1500HP Mammoth® 4.5 Ram Air Inlet System Eliminates Restrictive Stock Radiator Scoop, Hoses, Bends and Filter Box. No Cutting or Grinding Required On Engine. Kenne Bell In House Calibrated Engine and Trans for Optimum Driveability. 91, 93, Race Unleaded or E85 Fuel. Easy to Read Oil Dipstick.
No Removing Supercharger to Change Oil. Available Anodized Polished Black or Polished. BIGGER, BILLET AND COOLER Bigger Is Always Better in supercharging and inlet systems. The goal for our new 3.2L Rear Inlet Twin Screw Supercharger Kit follows the typical Kenne Bell time proven success strategy that has kept us on top since we introduced the first rear inlet billet Twin Screw Kit to Ford owners on the 1990 Mustang and 1995 5.0 F150.
That is to offer the Biggest, Baddest, Most Powerful and Coolest Billet Twin Screw Supercharger supported by our dominating Mammoth® Rear Inlet System. These are the same basic flow bench and dyno developed kits that have produced over 1400HP on our record breaking Kenne Bell 5.0 Coyote Mustangs.
The new design 3.2L incorporates this exclusive Kenne Bell 4×6 lobe rotor concept housed in our legendary 100% billet rear inlet case. And the Patented Kenne Bell Liquid Cooled option for higher boost levels (15-24 psi) for industry leading HP potential.
Never to be confused with the smaller displacement Shelby GT500 2.65L and 2.3L OEM/vendor 4×4 twisted lobe rotors in a more restrictive front inlet cast aluminum housing. The larger displacement 3.2s 4×6 lobe rotors coupled to the undeniable HP superiority of the Kenne Bell Mammoth® Rear Inlet System is a combination that is simply unbeatable in HP potential. If the front inlet really produced more HP than a rear inlet, then why do ALL the highest HP Cobras, Ford GTs, Shelbys, Coyotes, Super Snakes, Lighting trucks and Hellcats and Demons run Kenne Bell or the Kenne Bell concept rear inlets instead of the smaller front inlets? Perhaps because Kenne Bell offers the largest and most powerful and efficient 2L, 3L and 4L Twin Screw superchargers and inlet systems in the industry.
Feel free to call one of our Tech people if you require more info. TREperformance is an Authorized Installing Dealer of Kenne Bell Superchargers. Dealers must have experience with high performance forced induction applications and provide excellent customer service and application advice. We do not lower invoice values since it is a violation of US and International custom laws. Let us work to resolve your problem so everyone is happy. Suite D7 Costa Mesa, CA 92627. The item "Kenne Bell 2015-2020 Ford F-150 5.0L Supercharger Mammoth 3.2L Tuner Kit Black" is in sale since Friday, September 11, 2020. This item is in the category "eBay Motors\Parts & Accessories\Car & Truck Parts\Turbos, Nitrous, Superchargers\Superchargers & Parts".
The seller is "treperformance" and is located in Costa Mesa, California. This item can be shipped worldwide.
Interchange Part Number: Big Bore
Type: Supercharger Kit
Brand: Kenne Bell
Warranty: Yes
Country/Region of Manufacture: United States
Part Brand: Kenne Bell
Placement on Vehicle: Front
Manufacturer Part Number: TS1004-3.2BTUN
Fitment Type: Performance/Custom