Tao Motor TBR7 Big Bore Kit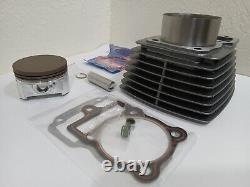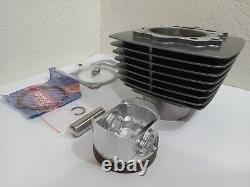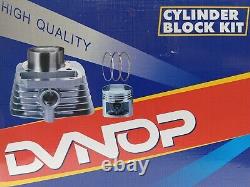 This kit will fit Chinese motorcycles using the 229cc OHV 167FMM engine. Please send a message to inquire for fitment on your motorcycle. Please read the entire description.
On bikes such as the Hawk 250, TaoTao TBR7, Vitacci Raven, several Bashan models and others, this kit increases displacement from 229cc to 250cc. It will also give a slight increase in compression ratio. It is unquestionably the best way to safely and significantly increase power at any rpm for the price. This kit has the grey finish as shown.
Check my other listings for a silver finish if you prefer. Both are the exact same quality.
The kit is extremely well manufactured with all high quality oem components including the 70mm cylinder and piston, 16mm piston pin and clips, base and head gaskets, piston rings, and new valve seals. A complete'top end rebuild kit'.
I have extensive experience with the Chinese CG engine platform and own a custom TaoTao TBR7 that runs this kit. It is inarguably the single most cost effective upgrade a person can to to these engines.
The cylinder has "300cc" stamped into it but that is a generic stamp from the factory as this cylinder fits many other CG engines. A 167fml running this kit will have 250.2 cc. There is a company offering a "high performance" big bore kit for Hawk 250 etc. That uses this same cylinder and piston kit, then without any specs on the head volume they have a local machinist deck the cylinders, resulting in the need to correct pushrod geometry and length with a rocker spacer. Aside from complicating and adding parts to a nearly bulletproof design, they couldn't tell you what the actual new compression ratio is or whether your bike will need race gas to run right. It will definitely make it more finicky, harder to kick and shorten the life of your engine. The electric starters are not designed for high compression. Then of course they upsell you with an oil cooler for the extra heat from high compression, which adds weight to your bike. There's no reasonable need for most people to push a small displacement air cooled engine to the very limit. This kit is for all those who just want more power but think all of that sounds kind of ridiculous. I not be responsible for your installation or assembly mistakes. There will be no "it was missing this or that" because it won't be. Because of the nature of the budget minded machine that many people who attempt to install these kits are going to be first timers and hobbyists. If you damage the kit it's your fault. If it won't run when you're done it's your fault. The most common mistake for a newbie is to break the rings or lose the piston pin clips. If you contact me with broken rings or missing piston pin clips, I will know it was you that broke or lost them. If you have any doubt that you can complete the project, pay someone who can. If anything I just said hurts your feelings, you have the option of not purchasing the parts from me. Don't risk ruining the availability of this product to others by blaming me for a lack of your knowledge or ability. If you own a Hawk 250 a Vitacci Raven or a TaoTao TBR7 this kit will bolt on. I highly recommend using a legitimate motorcycle tech to install it.
You are welcome to ask if it fits your motorcycle as it does fit several other models. I will ask for proof of your engine model with pictures so I can guarantee fitment.