Malossi Big Bore Kit for Genuine Roughhouse and Buddy 317083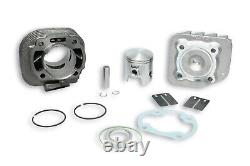 Malossi's most popular 70cc street kit for Genuine Scooters 50cc Two Stroke Engines. Very reliable, durable, and built to outlast the original parts. Includes everything pictured and nothing that isn't. CAST-IRON 70cc CYLINDER KIT 10mm wristpin M317083. Malossi cast-iron cylinder kits: the best balance between component performance and life of the component.
The cast-iron cylinder kits produced by Malossi s. Are designed and manufactured with the specific abjective of obtaining high combustion efficiency, long life, and a reliability that suits the Malossi name. Owing to the experience gained in the preparation of cylinder kits for race, Malossi engineers have developed the thermodynamics of cast-iron cylinder kits to the fullest and designed the inner fuid mechanics of the cylinder kit with fanatical precision (see the tranfer pipes, exhaust and combustion chamber), thereby obtaining a high level of turbolence in the combustion chamber. The latter has permitted a substantial reduction in specific consumption and a drastic reduction in the exhaust emission of pollutants.
Material: wearproof, laminate special cast iron. Transfer and exhaust disigned for maximum efficiency.
Lightened and reinforced, special aluminium alloy pistons with a high silicon content. Very high turbolence combustion chamber.
Genuine Buddy, Roughhouse, Rattler, Black Cat and other 50cc models. We are the largest direct importer of Malossi Parts in the United States.
If there is something you want from Piaggio, Malossi, JCosta or Vespa, please let us know. Please use the part number, pictures and description provided to make sure this part fits your vehicle. NO RETURN ON ELECTRONICS AND DIGITAL ITEMS.