KAWASAKI KLX110 TB Parts 143cc BIG BORE & 26mm CARBURETOR KIT KLX110L DRZ110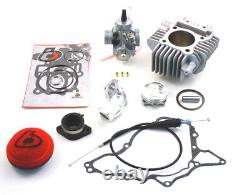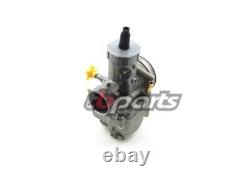 NEW 143cc BIG BORE & Larger 28mm PERFORMANCE CARBURETOR KIT FOR ALL KLX110's. 143 cc Big Bore Kit and 26mm Carburetor Performance Kit: - NEW Ceramic coated all aluminum cylinder (no steel sleeve) - 60mm piston with rings, pin, & clips - Head gasket kit - 26mm OKO Performance Carb kit with intake manifold and foam air filter. Main jet kit of 10. This complete kit includes our all aluminum ceramic coated cylinder. This new cylinder is lighter than a steel sleeved aluminum cylinder, reduces friction (increasing power), improves sealing, and provides better heat transfer (runs and cools down quicker) with the 143cc ceramic cylinder bore kit and the proven 26mm carb kit, delivers very impressive power and performance.
These are high quality parts and require no machining to the cases or other modifications - bolt on and go! There are no installation instructions, but if you can replace your piston you can install this kit. If you don't have any experience working on your engine, we highly recommend having a professional technician install this kit or, at a minimum, purchasing the shop manual for your bike available in this section or from your local Kawasaki or Suzuki dealer. The parts are installed in the same manner as the OEM parts.