Honda TL125 190 65.5mm Trials Big Bore Kit, Big Fin Cyl Bore xl125 cb125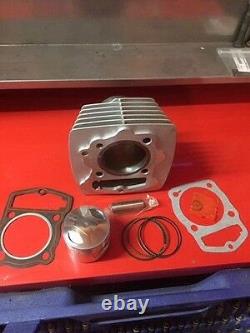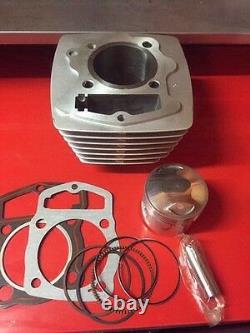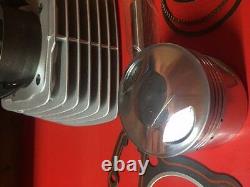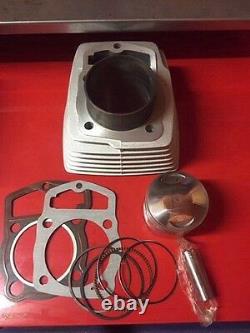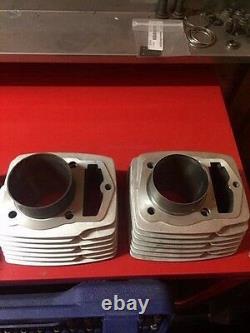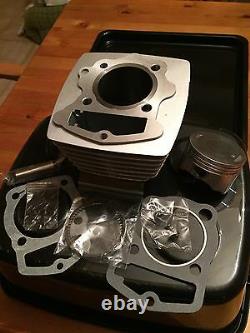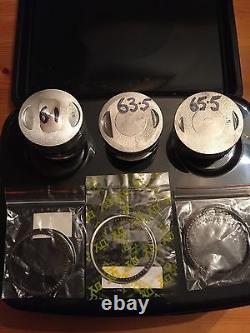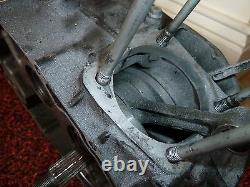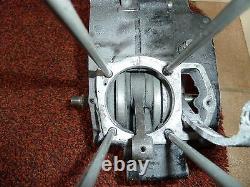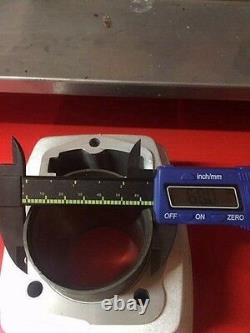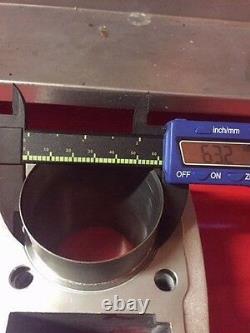 BEFORE YOU READ THE DESCRIPTION CRANK CASES MUST BE BORED OUT to 68mm TO FIT THIS 65.5mm 190KIT. SO YOU CAN FIT THIS OVERSIZE CYLINDER INTO THE CRANKCASE THIS CYLINDER IS UP to 65.5MM BORE 67.50 outer dia of linner. SEE OTHER LISTINGS FOR STRAIGHT FIT KIT 150cc 61mm bore kit. In this listing we have a Big bore kit for a Honda TL125 (190) 65.5mm bore big increase , Please check the photo the kit you see in the photo is the kit you get gives you a hell of a difference makes hill climbs easy pulls 1 gear higher everywhere , mods needed to crankcases on earlier tl125. This listing is for the big kit full size 68mm spigot to to fit the 65.5mm We can supply you with a 63.25mm spigot for early bikes with small 63.5mm crankcase openings photo of both std 68mm spigot and machined down 63.5mm is the last two photos , for 63.5mm straight fit no mods to crank case , see other listing.
But this will mean can not be rebored to 63.5 65.5 mm at later date as bore is 61mm and crankcase hole is 63.5. To fit cylinder as is it has a 68mm spigot so you can bore up to 62 or 63.5 or 65.5 mm tlr200 bore size. You must enlarge your crankcases to 68mm if you don't have the big crankcases , which is outer dia of sprigot on cylinder which is easy to do just using the new 68mm base gasket as template it's only a lip you have to remove.
Photos of both cylinders attached side by side early 63.5 crank case and late 68mm crank case. This is also a big fin cylinder for better cooling sim to tlr200 , relined and bored to 190 65.50mm patterned modified in the uk piston kit and oversize gasket set. Everything in the photo you receive. On XL125rc and late TL125 this kit is striaght fit as crankcases are 68mm dia hole. This is not the straight fit kit for early engines please read whole listing.
Photo of 63.25 and 68mm spigot cylinders. Attached all we do for the 63.5mm is turn down the 68mm one for you that's the only difference.
Spigot is the part that fits into the crankcase on the cylinder. AND FOR FURTURE SINGLE ITEMS GASKETS OVERSIZE PISTONS ETC delivering from the UK CARRYING STOCK IN UK Delivering to your door within 2 days Lots of our parts are OE HONDA OR YAMAHA PARTS AVT AUTOPARTS ltd 82/84shields road Byker Newcastle upon Tyne Ne61ds Tel 0191 2650028. 65.50 mm bore 190 kit alloy big fin cylinder. CNC finished top 65.50mm piston.
65.50mm oversize head gasket. IMPORTANT BERLT BIGBORE KITS ARE FOR COMPETITION USE ONLY. TRACK DAYS / DIRT RACING/ CLOSED CIRCUIT RACING ONLY. NOT SUITABLE FOR ROAD USE. Due to the highly tuned nature of the product.
The item "Honda TL125 190 65.5mm Trials Big Bore Kit, Big Fin Cyl Bore xl125 cb125" is in sale since Saturday, January 16, 2021. This item is in the category "Vehicle Parts & Accessories\Motorcycle Accessories\Security\Other Security".
The seller is "leezy_61_123" and is located in Hexham, Northumberland. This item can be shipped worldwide.
Brand: berlt
Manufacturer Part Number: Tl19065.5mm