Harley 107 big bore kit with ported, polished and flowed heads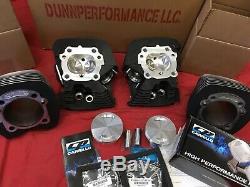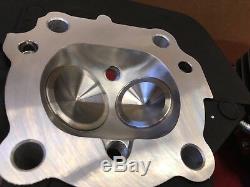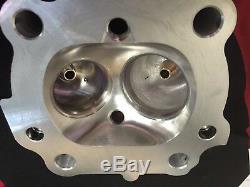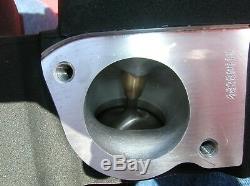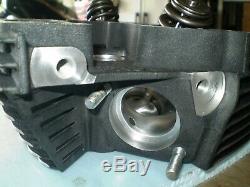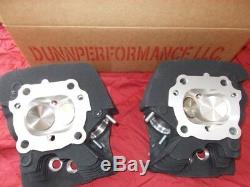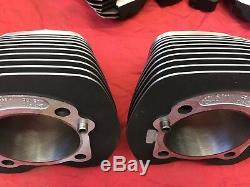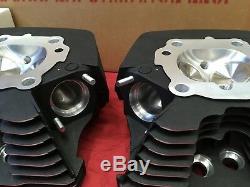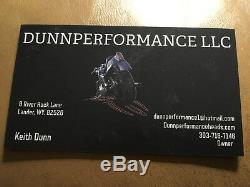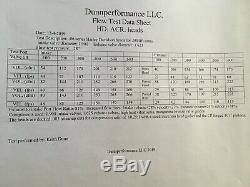 303-718-714six with any questions you may have. The heads are drilled and tapped for automatic compression releases. I also have them with manual compression releases at the same price. Harley 107 kit 10.25:1. Really sweet power with a set of S&S 585 cams or similar. Power, Performance and Reliability with hundreds of this 107 build package as a proven performer. A 107 big bore setup for 2007-present twin cam models, including touring models. (except water cooled models) The heads are drilled and tapped for automatic compression releases, however I can supply plugs if needed free of charge. A quality performance big bore package setup for. Performance products for a powerful and dependable build. This is a full service ported and polished set of heads. Like new dealer takeoff heads and cylinders along with brand new CP forged pistons. Line to line pistons have special coatings on the skirts, the top ring groove and the top of pistons for quieter performance, better lubrication and anti sticking properties for virtually no carbon build up on the piston to trap heat. Used on high performance applications. They are a premium forged piston from CP piston Corp. Harley Twin Cam Ported, Polished and Flowed Performance Heads, 107 ported heads, CP 10.25:1 (forged) big bore piston kit and cylinders. With over 35 years of machinining and polishing service to the performance enthusiast.
I still run a one man shop with my number one priority "Quality". These are clean dealer takeoff heads and cylinders, with Manley os. 1.900 Intake, & os. Each set of heads are flowed, These are actual flow numbers for this set of heads, not a generic flow. 108-115hp with 112-122 fpt on average with this 107 setup and a set of.
(except water cooled models) The heads have a very high lustre on the exhaust ports and the combustion chambers to reduce the carbon buildup and run cooler. The intake ports are finished to 80 grit, to atomize the fuel.
The intake ports are ported for excellent fuel transition through the port. You would'nt want highly polished intake port, as the fuel would stick to the port walls. The ports are port matched with precision cnc machined porting rings. I use manganese bronze valve guides, which pulls the heat from the cylinder and valves and offers extended life.. The oversized 1.900 intake valves are machined with a muti-angle profile. The oversized 1.625 exhaust valves are also machined with a multi-angle profile for added flow. This is a multi-angle valve job. The seats are serdi type radial design for maximum flow. All the seats are checked with a dial concentricity indicator gauge for valve to seat seal with a concentricity runout of less than.
001 for a perfect seal. The port side of the valves get a swirl finish.
This helps to atomize the fuel as it enters the combustion chamber. Remember, the liquid part of gas does not burn, it's the vapor. It needs to be atomized. This is why you can have a really strong motor, and still get 50 mpg. "Efficiency" The valve seals are new Viton seals which are the best for wear and heat resistance. 003 to create a 10.25:1 compression with a stock thickness gasket set and the CP forged pistons. Excellent compression for a powerful and dependable street bike.
The rocker side is machined. 005 to ensure a good seal. 555.585 lift cam with a.
235.250 duration with these heads. These heads are ported to increase velocity and volume which will give you much more torque and top end. The air opens up very fast. The increased air flow through the entire lift range increases torque.
Not just on the top lift. Torque is that great feeling you get when you twist the throttle.
I don't like huge ports because it slows the velocity. Think about it , you could bore a huge hole, lots of volume, but that volume would move very slowly.
Result , no torque, no bottem end. Most of us don't ride at 6000 rpm's. They are meant for a strong running street bike, not race engines. Of course we all like to twist the throttle every now and then. You will not be dissapointed with the power and torque you get from this setup.
The cylinders are bored with torque plates and honed to fit the KB forged big bore pistons, that are supplied with this kit. You will need to increase the jet size on carb models or increase fuel, through fuel management on fuel injected models. The heads are cleaned and lubed before assembly. Finally I test the valve to seat for a tight seal. They are dealer new takeoffs heads, ready for your project. These are an outright sale, no down time, no trade required. Cores are accepted if you desire.
You won't find another big bore kit at this price with all the detail work I have put into them. This Dunnperformance big bore kit will produce incredible, clean power through the gears. A few testimonials from some recent customers. Just remember a stock 96 motor will pull 65hp with 68fpt.
You will be looking at a 35hp gain with a 40fpt The increase in power is dramatic. Built to be Powerful and dependable.
Thanks for doing such a great job on the heads!!! My mechanic and his machinist were impressed w/the quality. My son nicknamed the bike the Beast. We did 97 hp and 98 fpt on my fxd with your 95 big bore kit, and a set of Andrews 54 cams. I just wanted to say thank you for a high quality product!
It is literally like night and day. Thanks again and keep up the good work!
Totally impressed with the work on the heads as they really woke up my'07 Ultra classic. The torque is awesome and is "right there" as soon as you move off idle. This thing pulls HARD and evenly from start to finish. This was my first Harley-Davidson build and went extremely well and easier than I expected.
You furnish an excellent product and great advice! So my buddy who spent almost three times as much as I did with your heads and a cam change of some Andrews 37s. He has larger valves and 585 lift. Converted to an s&s carb and manifold super G. He had a efi model.
The builder has his own dyno and is going to dyno tune my buddies bike. Has high performance ignition ect. He couldn't belive it so later we had to run again. Oh and he has 10.5 compression also. And I get around 45 miles per gallon , he gets around 40 Hell my buddy going to build up another bike for a bagger this ones a heritage.
He better get your 103 package or even larger! It is hard to amagine the bike without these heads. I've done 2 data logs with the Daytona Twin Scan. Surprisingly my map is not that far off. It's hard to stay off the throttle..
Keith, Just a note, We put the motor together with the 37 cams and Flat tops. It pulls good and strong up thru the rev limiter. Just a base map from the website. I did a similar build for a kid here and used a local guy for the head work.
Yours was head and shoulders above his in looks and performance. Here you are : 91 max power 104. The later is what I really like.
You take care, ride safe!! Hey KeithThe bike runs great. I have a little over a 1000 miles on it. Love the passing power and it gets up to speed quickly. My gas millage has increase by 5mpg.
I'm glad i did it. It`s a totally different machine with a brutal power. That I did`nt count on with the 211:s. Wonderful to ride with that performance!! I think it is your great headwork that is making the performance in my bike. Thats what it feels like when I twist the throttle. Thanks Keith for some great engine advices. Keith, Just a note from me, about the heads you sent for his 06 FXST. We put the motor together with the 37 cams and Flat tops. I have a 2009 110 FLTRSE do you have any 110 heads that are the granite color? If not I can wait for winter. Dynoed my 95 motor with Andrews 54 cams Delivered 96hp and 98fpt. Had her on the drum and she turned 109hp and 114fpt. The item "Harley 107 big bore kit with ported, polished and flowed heads" is in sale since Wednesday, December 4, 2019.
This item is in the category "eBay Motors\Parts & Accessories\Motorcycle Parts\Engines & Engine Parts\Other Engines & Engine Parts". The seller is "dunnperformance" and is located in Lander, Wyoming. This item can be shipped worldwide.
Modified Item: No
Country/Region of Manufacture: United States
Custom Bundle: No
Surface Finish: Black
Non-Domestic Product: No
Warranty: Yes