Big Bore 1200cc Cylinder Piston Conversion Kit Silver Wiseco 101 Rings 86-03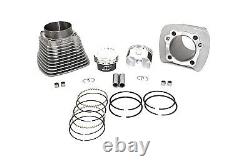 New Big Bore Kit by V-Twin Mfg. Increase your horsepower with our V-Twin 883cc to 1200cc big bore conversion kit.
Our kit includes 2 silver finished cylinders with milled edge fin. Cylinders are pre-fitted with Wiseco 10:1 piston and ring set. Order head base gasket separately.