04-05 Honda TRX450R 540cc 103mm 141 Race Big Bore Top End Rebuild Kit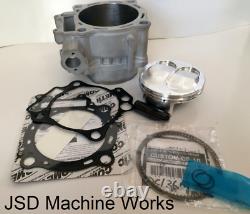 Big Bore Top End Rebuild Kit. Kit Includes: -103mm CPI Heavy Duty Cylinder (Heavy Duty USA Made Cylinder Casting, Nikasiled, Not a Remanufactured Core or Sleeved Cylinder). Custom 103mm 14:1 CP Piston Kit (Includes Piston, Rings, Pin, and Clips). Cometic 103mm Head and Base Gasket. Cylinder Features: -Nikasil Plated Aluminum Bore. USA Made CPI Cylinder Casting, Machined in USA.
Nikasil Plating done by Millennium Technologies. Piston Features: -14:1 Compression for 110+ Octane Race Fuel or Alcohol.
Underhead Milling for Lightweight Piston. Large Deep Valve Pockets to Clear Oversize Valves and High Lift / Duration Camshafts. Vertical Gas Ports for improved Ring Seal. Total Seal Piston Rings, CP-Carrillo Wrist Pin, and CP-Carrillo Clips Included. 540cc Big Bore Top End Kit for the 04-05 Honda TRX450R Engine.
Increases Bore Size from 94mm Stock Bore to 103mm Big Bore. Greatly Increases Power Potential of the Engine. Will work with Stock Head, Camshafts, etc. But Porting, High Performance Camshafts, Intakes, Carb Mods, Exhaust, etc. To get the best power from the engine.
This Engine Kit is designed to use with a stock stroke crankshaft. Carrillo Rod is highly recommended with this engine kit, as the stock rod or aftermarket replacement for stock rod Hot Rods, etc. Will not reliably handle the power produced by these engine kits.
Piston has large valve pockets, and has enough radial clearance for +3mm Intake Valves and +2mm Exhaust Valves. Valve Pockets are deep enough to clear most all high TDC Lifts, but clearances must be checked as different camshaft timing, etc. Can effect piston to valve clearance. Crankcase Boring is Required to Clear Cylinder Skirt. This is a High Performance Race Engine Kit, and all clearances Piston to Head, Piston to Valve, etc.
Must be checked when installing this kit, due to this, it must be installed by a engine builder that is capable of assembling, checking, and setting all clearances. JSD Machine Works offers a Complete Line of OEM and Aftermarket Performance Parts for the ATV, SxS, and MX Bike Industries.