Yamaha TTR 125 Big Bore Kit BBR 150cc with Cam for 2000-2013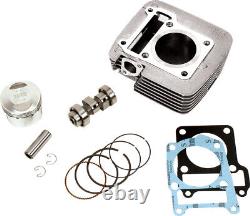 BBR 411-YTR-1201 150cc Big Bore Kit with Cam. Cylinder is custom made and features the BBR logo.
Includes high performance BBR MX Grind camshaft. BBR aluminum cylinder with steel liner. 58mm piston, ring set, piston pin & clips. Gasket kit including cylinder head and base gaskets.