TB Big Bore Kit 60mm 143cc Cylinder Piston Head KLX110 DRZ110 KLX DRZ 110 02-09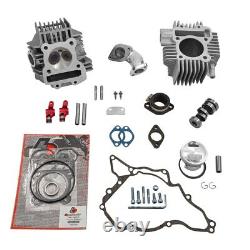 TB Parts Kit Consists of TBW0459, TBW0473, TBW0378, TBW0306, TBW1390, TBW0305, TBW0362. Cc Race Head V2, Big Bore Kit, and Intake Kit. Race Head V2 - Forged Aluminum Roller Rockers, 30mm intake valve, 24.5mm exhaust valve, 27mm intake port, 23mm exhaust port (valves installed).
Race Camshaft V2-1 for Race Head V2. Ceramic coated all aluminum cylinder (no steel sleeve). Updated Lightweight high compression domed 60mm piston with rings, pin, & clips. Head gasket kit - includes the cylinder head o-ring set and an exhaust gasket. Race Head V2 Intake Kit. This kit is the same as the complete kit minus the carburetor, throttle cable, and air filter. It does include the Intake Kit that port matches the V2 head and allows you to run the following boot/spigot mount type carbs.
Mikuni VM24, VM26, & VM28 - Keihin PE26 & PE28 - OKO 26mm - Our TB 28mm - Aftermarket versions of the above Mikuni and Keihin carbs (boot/spigot type only). Our TBW0321 throttle cable will work with most of the above carbs. For the air filter, a 42mm or 49mm mount filter will work depending on the carb used and we have both types available in this section. It includes our Race Head V2, camshaft, and a larger intake manifold.
While this head may appear to be the same on the outside as our previous (discontinued) race head and stock heads, internally it's has numerous differences. The addition of forged aluminum roller rocker arms and a new camshaft are the biggest changes followed by bigger valves and ports. The exhaust valve (like the intake valve) is now stainless steel too (21-4N material). This all adds up to a cylinder head that puts out a professional level of performance yet is still affordable.
The kit also includes an all aluminum ceramic coated cylinder. This cylinder is lighter than a steel sleeved aluminum cylinder, reduces friction (increasing power), improves sealing, and provides better heat transfer (runs and cools down quicker).
In 2020 we upgraded the piston for higher compression and more power. These are high quality parts and require no machining to the cases or other modifications - bolt on and go! Add a stroker crankshaft for even more power! There are no installation instructions, but if you can replace your piston, you can install this kit.
If you don't have any experience working on your engine, we highly recommend having a professional technician install this kit or, at a minimum, purchasing the shop manual for your bike available from your local Kawasaki or Suzuki dealer. We also have a link on our website in the INFO section under KLX110 where you can download the shop manual. The parts are installed in the same manner as the OEM parts. Can't find what you are looking for? YOU MUST REQUEST A TOTAL BEFORE PAYING.
Does not include electrical or engine parts.