S&S Wrinkle BLACK 4 Sidewinder Big Bore 100 Piston Kit 99-06 Twin Cam 910-0646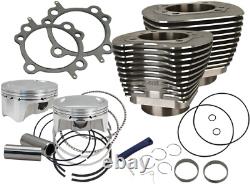 PLEASE READ BEFORE PLACING AN ORDER. PLEASE LEAVE YOUR FITMENT INFO AT CHECKOUT. SOME IMAGES ARE STOCK PHOTOS. They might not accurately represent the item you are purchasing.
More info regarding our policies can be found below the listing information. Bolt-In Sidewinder 4 Big Bore Kit - Wrinkle Black. Bolt in - no machining, balancing, or splitting the crankcases; install can be performed with engine still in frame. Cast Ductile Iron Sleeve in cast aluminum for superior heat transfer.
88" engines are boosted to 100". 96" and 103" engines are boosted to 110. 10.5:1 compression (w/ stock 85cc heads) makes for a very streetable and dependable engine that also responds well to performance cams. Complete kits include cylinders, forged pistons, rings, piston pins, clips and gaskets. Wrinkle black powdercoat finish cylinders. Screamin' Eagle Electra Glide Ultra Classic FLHTCUSE. Screamin' Eagle Fat Boy FLSTFSE2. Softail Night Train EFI FXSTBI. Super Glide Custom EFI FXDCI. Softail Springer Classic EFI FLSTSCI. 15th Anniversary Fat Boy FLSTF.
Screamin' Eagle Electra Glide FLHTCSE2. Screamin' Eagle Fat Boy FLSTFSE. Road King Custom EFI FLHRS.
Softail Heritage Classic EFI FLSTCI. Electra Glide Classic EFI FLHTCI. Electra Glide Ultra Classic FLHTCU. Road King Classic EFI FLHRC. Electra Glide Ultra Classic EFI FLHTCUI.
Softail Fat Boy EFI FLSTFI. Electra Glide Standard EFI FLHTI. Super Glide Sport EFI FXDXI.
Screamin' Eagle Electra Glide FLHTCSE. Screamin' Eagle Road King FLHRSE-I2. Softail Heritage Springer EFI FLSTSI. Screamin' Eagle Road King FLHRSE-I. Screamin' Eagle Road Glide FLTRSE-I2.
Screamin' Eagle Road Glide FLTRSE-I. Electra Glide Classic - FLHTC. Electra Glide Classic Injected - FLHTC I. Electra Glide Standard - FLHT.
Electra Glide Ultra Classic Injected - FLHTCU I. Road King Classic Injected - FLHRC I.
Softail Night Train - FXSTB. Electra Glide Standard Injected - FLHT I. Road King Custom - FLHRS. Road King Custom Injected - FLHRS I. Dyna Low Rider - FXDL. Dyna Low Rider-Injected - FXDL-I. Dyna Super Glide - FXD.
Dyna Super Glide Custom Injected - FXDC I. Dyna Super Glide Injected - FXD I. Dyna Super Glide Sport - FXDX.
Dyna Super Glide Sport Injected - FXDX I. Dyna Super Glide T-Sport - FXDXT. Dyna Wide Glide - FXDWG.
Dyna Wide Glide-Injected - FXDWG-I. Heritage Classic (EFI) - FLSTC. Softail Night Train Injected - FXSTB I. Softail Springer Classic - FLSTSC. Softail Springer Classic Injected - FLSTSC I.
Softail Springer Injected - FXSTS I. Softail Standard Injected - FXST I. DON'T FORGET TO PROVIDE US WITH YOUR YEAR MAKE AND MODEL DURING CHECKOUT! In most cases, this allows us to cut down on transit time if the item is available in multiple warehouses. Can I return something if I don't like it or it doesn't fit?
F you simply have a change of heart for any reason, yes, you can return the part (unless it is a tuner). IN THE ORIGINAL PACKAGING, IN RESALABLE CONDITION.
No later than 30 days after the item is received. Why doesn't the listing image look like my part?
Please read the description and check the part number and fitment chart BEFORE checking out. Do you offer discounts on Bulk Orders? Yes, we will, as long as we're able to get the part through one of our distributors and the part is available. We will need a link to the exact part that you are inquiring about. Please note that the part number, color, size, model, fitment etc must match. The price match (if approved) cannot be combined with any other discounts. We reserve the right to turn down a price-match offer. Please note that E-Bays fitment chart is not always up to date.
We can confirm fitment for you. Unfortunately, we have no control over this decision.