Honda TRX90 TRX 90 114cc Big Bore Kit V2 Race Head 26mm Mikuni TB Parts TBW9117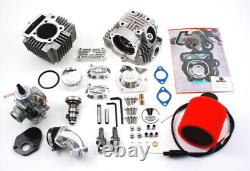 TB Parts TRX90 114cc Complete Big Bore, V2 Race Head & 26mm Mikuni Kit. Race Head V2 - Roller rockers, 30mm intake valve, 24.5mm exhaust valve, 27mm intake port, 23mm exhaust port (valves installed).
Race Camshaft V2-1 for Race Head V2. High compression 54mm piston with rings, pin, & clips. Head gasket kit - includes the cylinder head o-ring set and an exhaust gasket. Genuine Mikuni VM 26mm Performance Carburetor. Race Head V2 Intake Kit.
Jet kit with 3 different sizes for varying conditions and exhausts (Stock size is a #190 - Extra jets sizes of 155, 165 & 175). There are no installation instructions, but if you can replace your piston, you can install this kit as the parts are installed in the same manner as the OEM parts.
NOTE: 114cc kits no longer require case boring as in the past!